CBC AND MASSEY HALL ANNOUNCE INNOVATIVE FIVE-YEAR PARTNERSHIP TO SHOWCASE CANADIAN MUSICIANS FOR A NATIONAL AUDIENCE
JOINT PROGRAMMING INITIATIVES WILL AMPLIFY EMERGING AND ESTABLISHED ARTISTS

INITIATIVES INCLUDE NEW CONCERT SERIES TO SHARE RECORDED PERFORMANCES FROM MASSEY HALL AND ALLIED MUSIC CENTRE WITH AUDIENCES ACROSS THE COUNTRY

CBC NAMED THE OFFICIAL MEDIA PARTNER OF MASSEY HALL AND ALLIED MUSIC CENTRE

MASSEY HALL AND ALLIED MUSIC CENTRE TO HOST CBC PRODUCTION TEAMS IN STATE-OF-THE-ART STUDIOS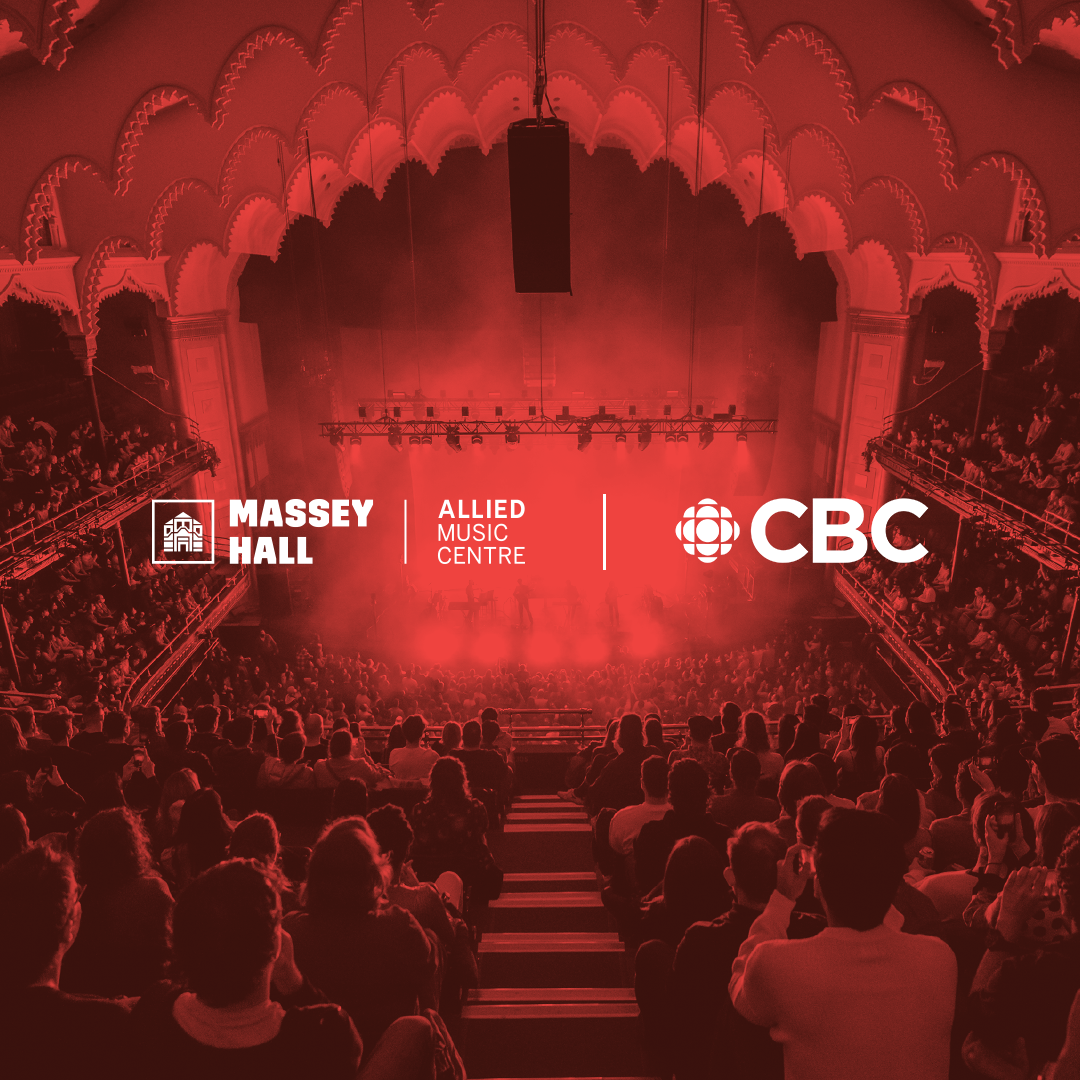 (June 14, 2022) – Upon the City of Toronto's proclamation of June 14 as Massey Hall Day, The Corporation of Massey Hall & Roy Thomson Hall and CBC, Canada's public broadcaster, today announced a new five-year partnership that includes the naming of CBC as the official media partner of Massey Hall and Allied Music Centre. Building on their extensive shared history, the two established Canadian cultural institutions will develop new programming initiatives to amplify emerging and established homegrown musical talent. The partnership includes a new dynamic live concert series for national audiences that will be available across CBC platforms, beginning this fall.

The concert series will feature performances by Canadian artists available on CBC platforms including CBC TV, CBC Gem, CBC Listen, CBC Radio and CBC Music, recorded from all of the venues within the Allied Music Centre including the 100-capacity community theatre, the 500-capacity club, and the mainstage at Massey Hall. The spotlighted artists and CBC schedule will be announced closer to the concert series launch this fall.

"The relationship between Massey Hall and CBC is built on a remarkable history of bringing once-in-a-lifetime performances from our stage to Canadians across the country," said Jesse Kumagai President & CEO, Massey Hall. "As we look to the future, we will build on this legacy by connecting artists and audiences in new and innovative ways, and we can't imagine a better partner to highlight and share the next generation of incredible music we will host at Massey Hall and Allied Music Centre."

"In bringing together these two iconic Canadian cultural brands, this groundbreaking new partnership will further elevate CBC and Massey Hall's shared commitment to nurture, support and showcase the very best of this country's musical talent across all genres," said Barbara Williams, Executive Vice-President, CBC. "We are so proud and excited to work closely with the teams at Massey Hall and Allied Music Centre to shine an even brighter spotlight on Canadian music by offering audiences across the country a front row seat to performances from this historic and revitalized venue."

Today's announcement is preceded by a long-standing history between Massey Hall and CBC dating back to the 1940s, including a time when performances were recorded live from a CBC broadcast booth overlooking Massey Hall's historic Allan Slaight Stage.

This collaboration also introduces new studio spaces for CBC at Allied Music Centre, located on the fifth floor of the new building adjacent to Massey Hall. On-site performance content will be produced at these state-of-the-art audio & visual production studios, which will also offer an alternate location for CBC Radio and TV hosts to conduct artist interviews, and for producers and editors to create other original CBC content.

Massey Hall fans can expect additional exciting Massey Hall content and livestreaming news very soon.

Visit masseyhall.com or follow us on Instagram and Facebook for the latest Massey Hall news and concert announcements.

- 30 -
ABOUT ALLIED MUSIC CENTRE & MASSEY HALL:
Massey Hall and Roy Thomson Hall is a charitable not-for-profit devoted to artist development, community outreach, and educational programming.

Built in 1894 by Hart Massey, Massey Hall was gifted to the citizens of Toronto and continues to be one of Canada's most revered cultural institutions and a designated National Historic Site.

The Massey Hall Revitalization Project marks the most significant restoration, revitalization, and re-imagination of Massey Hall in 127 history, which includes a remarkably restored Allan Slaight Auditorium, and the construction of a 7-storey tower to the south, collectively known as Allied Music Centre. The expansion means Allied Music Centre will house four venues that includes Massey Hall and other amenities for artists, educators, and community groups.

Allied Music Centre will be complete later this year and is 3% from reaching the $186.5M goal. Allied Music Centre is generously supported by Allied Properties; the Government of Canada; the Province of Ontario; the City of Toronto; The Slaight Family Foundation; Cornerstone Supporters MOD Developments, and Tricon Residential Inc; the support of the Weston Family Foundation and Asahi; and over 4000 live performance lovers who have shown their support with generous gifts.

For More about Allied Music Centre and Massey Hall, visit AlliedMusicCentre.com.

ABOUT CBC/RADIO-CANADA:
CBC/Radio-Canada is Canada's national public broadcaster. Through our mandate to inform, enlighten and entertain, we play a central role in strengthening Canadian culture. As Canada's trusted news source, we offer a uniquely Canadian perspective on news, current affairs and world affairs. Our distinctively homegrown entertainment programming draws audiences from across the country. Deeply rooted in communities, CBC/Radio-Canada offers diverse content in English, French and eight Indigenous languages. We also deliver content in Spanish, Arabic, Chinese, Punjabi and Tagalog, as well as both official languages, through Radio Canada International (RCI). We are leading the transformation to meet the needs of Canadians in a digital world.

ABOUT CBC MUSIC:

CBC Music is the leading curator of emerging and diverse Canadian music talent across platforms, playing the most Canadian artists and genres on radio, CBC Listen and cbcmusic.ca. We prioritize Canadian artists in a wide variety of genres on over 200 playlists available on CBC Listen, and publish daily national music coverage. CBC Music Live features live music recordings from across the country. Our music partnerships and events include The JUNOS, the Polaris Music Prize, CBC Music Toyota Searchlight, the CBC Music Festival, The Canadian Music Class Challenge and Canada Listens.